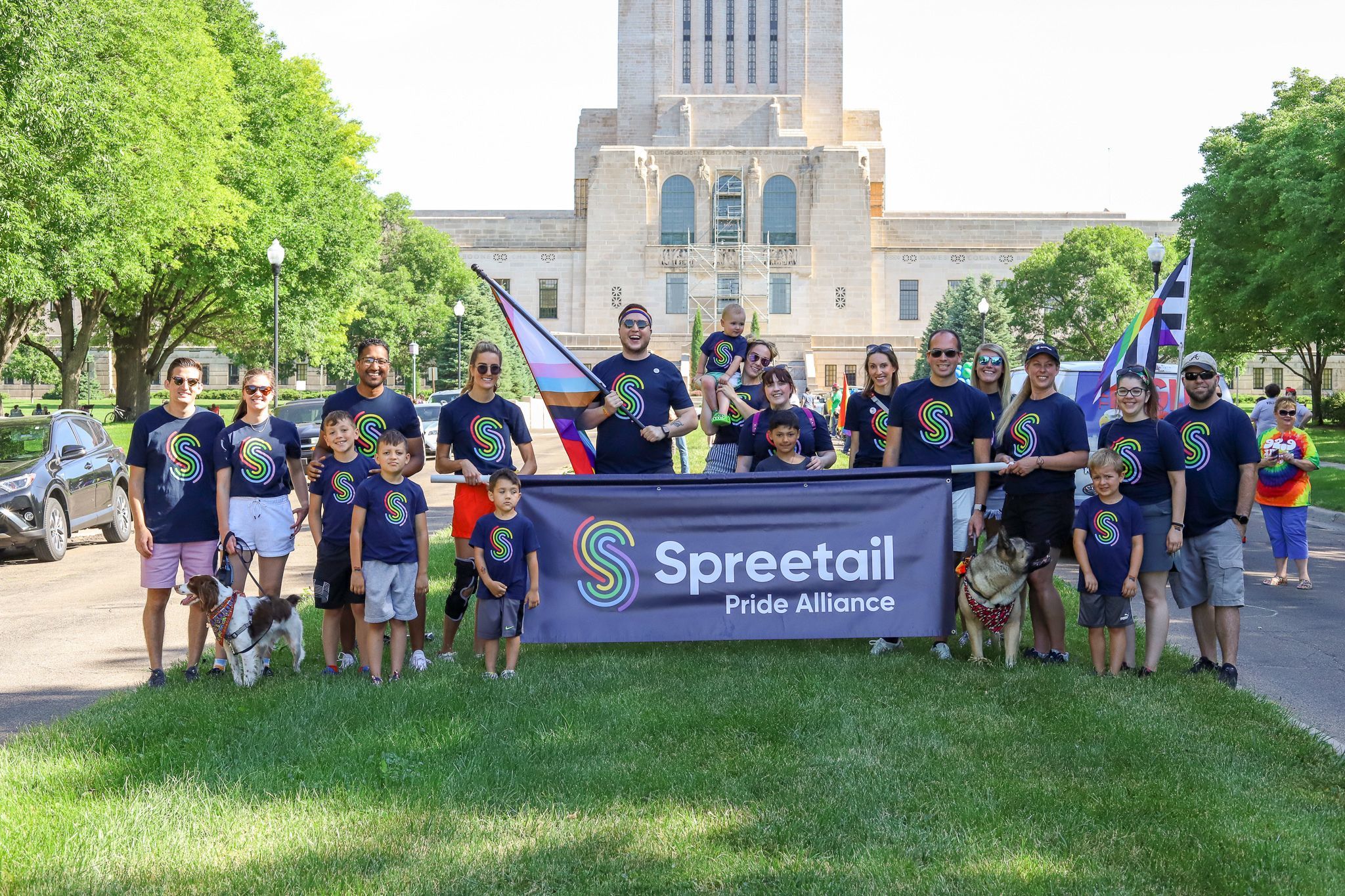 Nebraska Competes is proud to share and support the work of our members. Recently, Spreetail's employee inclusion networks selected new leadership. Read more in the news release:
February 22, 2022
SPREETAIL ANNOUNCES 2022 LEADERS OF INCLUSION NETWORKS
A year after the launch of Spreetail's Inclusion Networks, new leadership for 2022 was voted on for Spreetail Professionals of Color, Spreetail Professional Women Rising, and Spreetail Pride Alliance.
In October of 2020, employees from across the company stood up three Inclusion Networks to focus on initiatives to build and serve communities, provide advocacy and support, share resources, and help educate the Spreetail community. These groups align to Spreetail's Inclusion Statement: "At Spreetail, we are relentless in our pursuit of equity and equality, we embrace cultural differences that raise our bar, we pursue the challenges within ourselves to make Spreetail better, and we humbly acknowledge our duty to build and foster an inclusive workplace where all may succeed."
On November 17, 2021, the new Inclusion Network leaders were announced for 2022 in a company-wide meeting. These individuals can nominate themselves or others for positions such as Chair, Co-Chair, and Communications Lead. All Inclusion Networks also have an Executive Partner, someone from Spreetail's C-Suite, to participate within the group and provide guidance. Voting opens for every employee to elect leadership that will serve 12-month terms and conduct monthly meetings. 
Two members of the Talent Acquisition & Brand team were elected as two of the Inclusion Network Chairs to lead monthly meetings and initiatives. 
"I am honored to serve as Chair for the Spreetail Professionals of Color Inclusion Network (SPOC)," said Kim Sanders, Recruiter. 
"I look forward to what we can accomplish in cultivating a diverse, equitable, and inclusive work culture. Our priority for 2022 is to continue to build awareness and opportunities for people of color at Spreetail. This conversation goes beyond just black and white but transcends to many cultures, races, ethnicities, and backgrounds. We are here to support the raising up of all people of color within our company and communities."

"As part of the LGBTQIA+ community, a substantial portion of my decision to join Spreetail was based on the company's investment into the Inclusion Networks," shared Monya DeBoer, Recruitment Manager. "I was honored to be chosen as the chair for Spreetail Pride Alliance (SPA). SPA strives to foster a positive and supportive workplace through education, support, and community involvement for all of the LQBTQIA+ employees and Allies."
Last December, Inclusion Network meetings were co-led by the 2021 and 2022 leaders, with the new leaders officially taking the reins in January. 
"Improving inclusivity for all employees has been a personal journey of discovery, particularly in the last few years. Sharing resources and giving back to my work community is a passion of mine, especially for those who identify as women in our workforce. I even asked about Spreetail's DEI initiatives in my initial interview!" said Debbie Petru, Program Manager and Chair of Spreetail Professional Women Rising (PWR). 
"I respect the efforts of my fellow Spreetailers who laid the groundwork for PWR and am thrilled to partner with our executive sponsor, Heidi Hough, and fellow leaders, Marti and Elle. We have already learned so much from each other, and I'm stoked about the programming we have planned for 2022. We will continue breaking down biases and building up one another."
Spreetail Inclusion Network 2022 Leaders:
Spreetail Professionals of Color (SPOC):
Chair: Kim Sanders
Co-Chair: Mika Moss-Williams
Executive Partner: Allan Hale
Communications Lead: Monica Borrego
Events Committee Lead: Andy Jewell
International Committee Lead: Tiago Iglezia
Spreetail Professional Women Rising (PWR):
Chair: Debbie Petru
Co-Chair: Marti Carrington
Executive Partner: Heidi Hough
Communications Lead: Elle Hansen
Spreetail Pride Alliance (SPA):
Chair: Monya DeBoer
Co-Chair: Andrea McInerney 
Executive Partner: Owen Carr
Communications Lead: Mallory Celani
###
About Spreetail:
Spreetail is an ecommerce company with a purpose to make a dent in the universe by delighting millions of customers, creating opportunity and wealth for our team, and revolutionizing the communities we touch. Since 2006, Spreetail has partnered with more than 1,000 top brands to accelerate their growth by providing end-to-end ecommerce solutions powered by a proprietary multi-marketplace software platform and nationwide fulfillment network. Today, up to 100,000 orders are fulfilled a day, across 15 marketplaces on behalf of our partners – making Spreetail a top retailer on Amazon, Walmart.com, and Target.com, and more. For more information, visit wearespreetail.com.